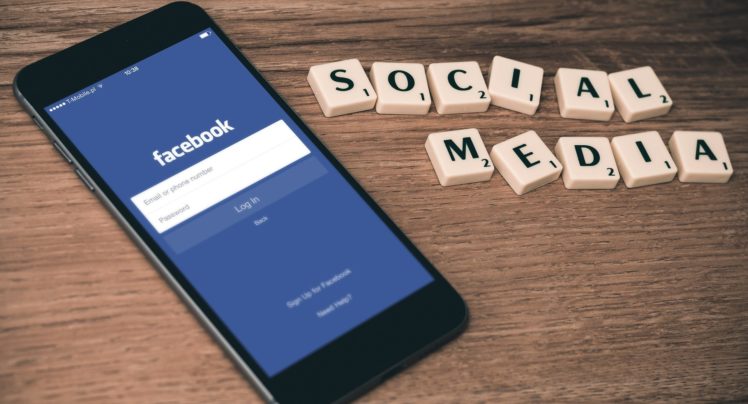 In an ideal world, the popular social network Facebook allows you to send thousands of visitors to your website every day without spending a penny on fancy marketing tools. A solid content marketing strategy can generate good organic Facebook traffic, but there may be times when this is not enough. Most companies make the classic mistake of advertising on Facebook by not taking budget allocation and KPI planning into serious consideration. The output of this is – unstable results and burnt pockets. Yes, you do need to take this seriously!
Why? Facebook has 2.74 billion active users in 2021, an increase of 12% from the previous year. Facebook is accessed by billions of active users on average, so you can't ignore this traffic source in your marketing mix. Facebook tops the 2021 list. Check it out.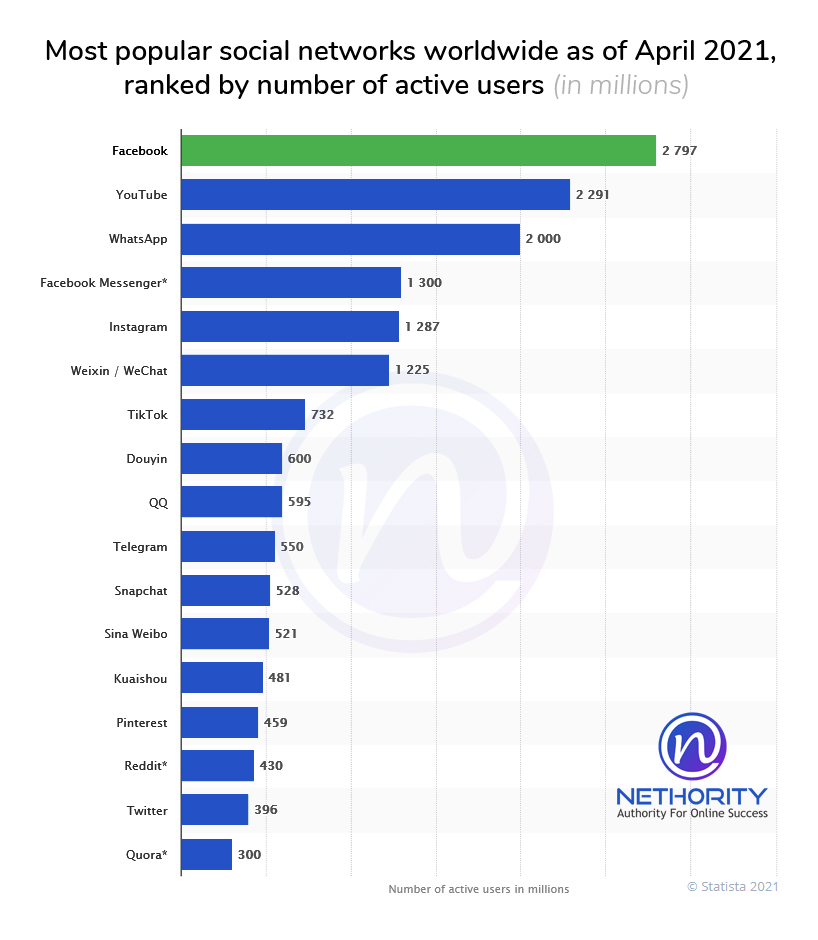 Facebook has developed an ad platform that allows advertisers to simultaneously send ads to users across all Facebook resources: Facebook, Messenger, WhatsApp, Instagram, Marketplace, and Facebook Audience Network.
For all the good reasons to try Facebook advertising, the only question is: Where to start? A promising place to start is with Facebook Ad tools.
We've listed some great ad tools below which will not only simplify the entire process but will also save money and give your ad performance a major boost.
Tool #1 SEM Rush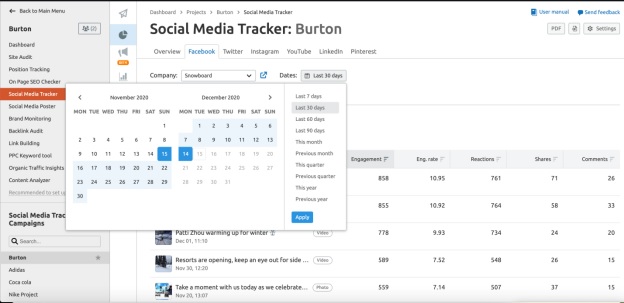 Semrush knows a lot about markets and websites. Through this tool, you get access to the world's largest database of 20 billion keywords, 310 million ads, and 17 billion crawled URLs. But you get more than just numbers. This tool provides excellent data analysis and instant recommendations for SEO, content marketing and advertising. So this will helps you to increase your online visibility in a few days. This tool allows you to create, run and manage ads on Facebook platforms – Instagram, Facebook Messenger, Audience Network and other Facebook products. This tool also helps you optimize your campaigns by detecting ads with low performance and ads not approved by Facebook.
Tool #2 Facebook Ads Manager & its App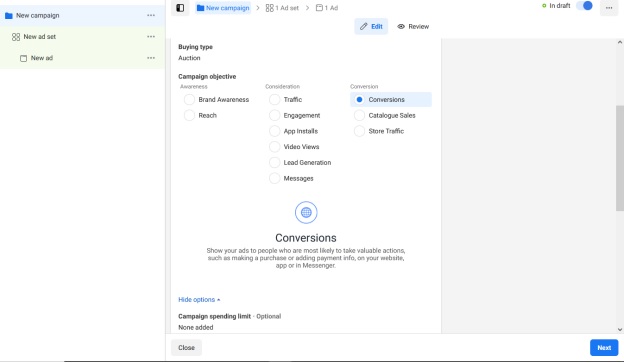 Image source: https://www.semrush.com/
Ads Manager is an advanced Facebook management platform for managing paid media using apps from the Facebook suite. This is one tool that lets you perform multiple profitable actions like boosting your page, promoting your page, diverting audience to your website, increasing conversions on the website, reaching out to people near your business location, raising attendance of your event, get people to claim your offer, get videos views, collect leads for business, etc. You may already be using this tool for audience building, advertising campaigns, experiments, and performance testing, but we know that Facebook Ads Manager has a mobile app for iOS and Android to provide a strong mobile experience and track ad performance. This makes life easier who doesn't wish to spend time on a desktop and who needs to quickly edit or schedule ads. All this is provided for the convenience of the user!
Tool #3 AdEspresso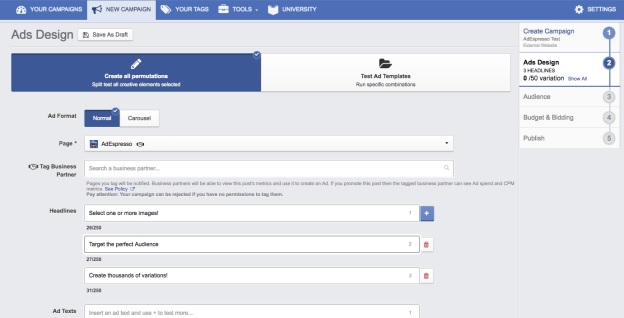 Image source: https://support.adespresso.com
AdEpresso is one of the best Facebook marketing tools for both newbies and seasoned professionals. When it comes to Facebook advertising and marketing tools, this is the simplest and easiest way. It only takes a few minutes, requires minimal training, and can fetch unexpected results for your digital marketing success. Some of the features include – clear, easy-to-understand, visual analysis, customizable dashboard for identifying top-performing ads and focusing on the best numbers. To get detailed metrics and to dig deeper into AdEpresso's social marketing, you can log on to another great feature by them – 'Espresso Advertising Academy'. Various free educational tools are available so you don't have to get lost or surprised on how to ace in using this tool.
Tool #4 Hootsuite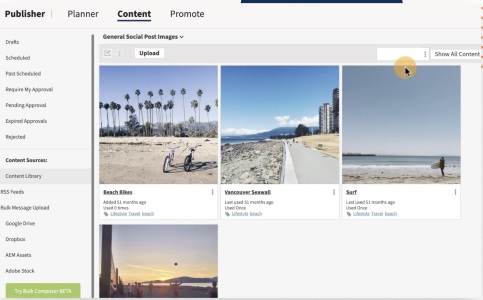 Image source: https://www.hootsuite.com/
Hootsuite is a Facebook tool primarily used by marketing agencies. This tool allows you to optimize your Facebook ad campaigns, customize targeting, drive user conversions, and schedule posts on platforms such as Facebook, Twitter, Instagram, YouTube, LinkedIn, and Pinterest in one go. Hootsuite lets you connect with over 150 apps like YouTube, Salesforce, Google Drive, SoundCloud and many more to streamline processes and collaborate more efficiently. If you're not sure what to post to Facebook next, Hootsuite offers relevant recommendations for creating ads. One of its best features is that it lets you view all your social media accounts on one dashboard.
Tool #5 Qwaya
Qwaya is one of the most famous Facebook ad management software designed to manage and optimize Facebook ads. It has advanced features that can be used primarily by marketing professionals. One of the best features worth mentioning is powerful A / B testing, which allows the general public to compare multiple ad performances on one screen and generate detailed reports. You can also filter your results by various criteria to reach the most promising audience in your campaign. It's easy to create ads from a vast collection of ready ad templates which is a great help for you to design. Qwaya also has an audience search engine to find relevant Facebook users. However, choosing Qwaya is only a good choice for those with years of experience in social media advertising. Advanced features of this tool can easily confuse newbies and those with no hands-on experience. It also offers powerful features like searching for the potential target audience, creating social media ads in a simpler process, availability of a 14-day free trial, a library of ad templates with customization options, custom ad campaign automation, etc.
Tool #6 Word Stream
Creating Facebook ads can be crazy, especially when so many variables are involved. This is where WordStream can help. WordStream gives you tips on how to evaluate your ads and optimize them. Facebook ad prices can skyrocket, which is why WordStream offers some validation and balance to stay within your budget with one of Facebook's proven ad tools. It makes use of Artificial intelligence and machine learning to analyze campaign data and handle PPC management processes. WordStream's 20-minute uptime per week simplifies time-consuming tasks with customizable notifications on multiple high-priority platforms.
Tool #7 Hubspot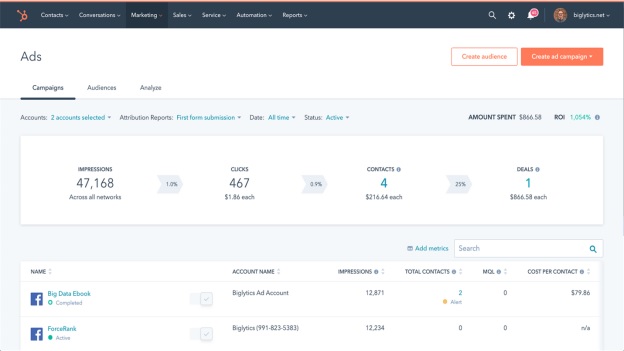 Image source: https://www.hootsuite.com/
HubSpot allows you to create, manage and report digital ads on Facebook, Instagram and other ad networks. This is a great option, especially if you're looking for an easy way to connect ads to all of your marketing activities in one place. The free version is great if you are just getting started with Facebook ads and want new leads. With a free HubSpot account, you can use the built-in editor to quickly and easily create ads and sync notifications so all your contacts are in one place. You also visit the reports to see which ads your contacts have clicked on. The plan also includes additional tools for convert leads into customers. Once you are thorough about using HubSpot, you can also optimize email marketing, live chat, chatbot landing page builder, form and popup builders. As your advertising budget grows, you can upgrade to the premium features of HubSpot Advertising Tools. This way, you can use retargeting to reach people online based on the information about past interactions with you, what you know about them while you automate these processes with more detailed task reports.
Tool #8 Driftrock
This tool should be special because many big brands like Coca-Cola and BMW rely on drift locks. Driftrock takes a unique four-step approach to Facebook advertising – Create, Automate, Trigger and Lead Response. Forget about enabling and disabling campaigns based solely on the timeframe. You can now use various other variables to create messages and other announcements at the optimal time. It can connect lead gen sources to your CRM. It offers end-to-end tracking, lead validation and campaign optimization. With such fantastic features, there is definitely an increased chance of a positive ROI.
Tool #9 Revealbot
This is one of the best Facebook ad automation tools. Revealbot allows advertisers on autopilot to manage their ad campaigns on a daily basis, giving them time to do things that automation can't do, like creating the next big ad. The tool gives you the ability to create complex automations which are not possible on local platforms such as AND/OR operators, personal, statistics, custom time frames, metric equations, ranking equations and more. Revealbot plans start at $ 99, and there's also a 14-day free trial. Moreover, it offers a free Facebook Ads course that teaches new users how to automate Facebook ads with the help of Revealbot.
Tool #10 AdStage
AdStage is a great Facebook ad automation tool that cuts down on the time it takes to submit resolve issues. It can create custom dashboards in seconds and can get started with built-in templates. You can also use AdStage to automate ad optimization and custom create ad details based on real-time performance. Get a complete picture of your online presence with Google AdWords analytics combined with information offered by Facebook insights. If you are annoyed by viewing numbers on Facebook campaign data, this tool offers access to the visual presentation chart in a clear and precise manner.