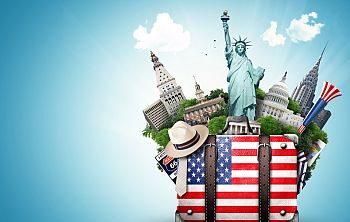 For decades, visiting the US has been a common dream of citizens living in countries across the globe. The allure of traveling to the land of freedom, fast food and big budget Hollywood movies is something that is undeniable, regardless of whether or not the actual experience of visiting the US can live up to those expectations.
This being the case, it's understandable that you might want to take a trip to the United States at some point in your life. Sure, it might not be all it's cracked up to be, but if you don't live within its borders you might not be able to resist its lurid call. So, you want to visit the US. What do you have to do to make this a reality?
The truth is, there is a lot you'll need to do before you can board a plane to the United States. Acquiring a visa, if required, making travel arrangements, finding places to stay, creating an itinerary and many other things will have to be dealt with before you can finally see your dream of visiting the US materialize into a reality. Luckily for you, we're going to tell you how to do it!
Planning is everything
Before we go any further, we've got to make one thing clear: if you want to visit the US, you're going to have to plan the trip out step by step, and prepare for as much as possible in advance. Planning really is, as the subheading implies, everything. Without the benefit of a good plan made in advance, you're all the more likely to find yourself left high and dry, up the creek without so much as a paddle.
Don't worry; planning doesn't have to be particularly difficult or time consuming. All you have to do is make sure that you deal with as many of the details beforehand, so you're free to enjoy yourself while you're there. There are plenty of things to see and do in the United States, and you don't want to miss out because you spent all your time at your national embassy! 
Secure a visa and travel documents
The first detail you'll need to iron out when planning a vacation to the US is that of your travel documents. Obviously you'll need a passport, but you may also need a valid tourist visa. While some countries have visa free travel agreements with the United States, most do not, and thus you will be required to have a visa in order to enter the country.
Getting a visa is easier than you might have previously thought. The process has been streamlined significantly since the advent of the internet, making it far less time consuming and challenging to obtain a valid visa. In order to get the right visa for your trip, get in touch with a US embassy or consulate in your country and gather information on how to pursue this goal. 
Coordinate with your travel group
Once you've gotten your personal travel documents taken care of, it's time to decide whether you'll be going it alone or with friends/family. While traveling alone can be a ton of fun, travelling with a group has a number of benefits that make it preferable to the other option. In addition to safety, camaraderie and economy, traveling in a group is just a lot of fun!
In order to make sure that everything goes smoothly while you're on the road, make sure everyone in your group has their personal affairs ironed out beforehand. There are few things that are quite as unpleasant as spending hours upon hours in the airport upon arrival because one of your friends didn't have the dates right on their visa! 
Book your flights
While those living in countries that border the US may be able to reach it by car, most visitors will arrive via airplane. This being the case, it's always best to book your tickets well in advance in order to obtain the best price possible and avoid any unnecessary delays, cancellations or unforeseen setbacks. In the post-COVID international travel scene, finding a reliable flight can take substantial amounts of time, so don't risk it; book your flights today!
Finding flights beforehand will also help you coordinate your trip more efficiently, allowing you to know exactly where and when you'll be arriving so you can get the best possible deals on accommodation and other necessities. Considering the benefits of saving money on your flights and easing your pre-travel stress, advance flight booking is a must! 
Find accommodation
Once you've received the green light to travel to the United States, the next step you'll want to take is finding accommodation. While this can be done on the fly, getting it out of the way well before you board your flight will relieve you of the financial and logistical burden of having to deal with accommodation as you need it.
There are a wide variety of different options available for lodging in the US, from conventional options such as hotels and resorts to more unique lodging options such as AirBnB and Couchsurfing. Whatever you choose, make sure you know well in advance where you're going to be staying, and when you're going to be staying there. 
Have fun and stay safe!
Once you've taken care of these details and the date of your flight arrives, you'll be off to the US to let your hair down and have fun! There's so much to see and do in the country that you could easily spend years there without seeing it all. While this is great and all, it's important to keep the personal safety of yourself and everyone in the group in mind at all times.
In order to make sure nothing out of the ordinary happens while you're traveling, always observe common-sense safety measures such going out in pairs, keeping a first aid kit in your bag, staying hydrated etc. These may seem like a no-brainer, but just try to stay aware and alert at all times. Trust us, if something goes wrong you'll thank us for the advice! 
Conclusion
No matter what your opinions are of the United States, there's no denying the fact that visiting it is a whole lot of fun. Whether your trip will focus on art appreciation, cultural engagement or personal growth, the experience of traveling to the US for the first time is highly likely to change you forever, along with your outlook on the world.
Taking a trip as big as this can be a daunting affair, but it is our most sincere hope that this article has helped you get a better grasp on what you'll need to do before you go, and how you can best experience the country while you're there. We wish you the best of luck, safe travels, and an overall unforgettable trip!